Meet our Teachers at Mahi Yoga Centre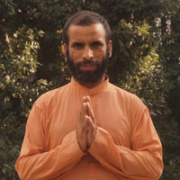 Yoga Guru Mahi ERYT 200 ERYT 500
[dropcap]W[/dropcap]hen Mahi was eleven, his family members, being all Yogis, taught him yoga. The whole family belonged to the Yoga Meditation & Pranayama, therefore focusing on the spiritual development of a human. For example, Mahi's father was a disciple of Sri Ramana Maharishi's student. However, not only family members influenced Mahi on his way! He spent a lot of time learning hatha yoga, bhakti yoga, meditation and karma yoga with monks and swamis.
By turning eighteen, Mahi went to India to continue his development on the yoga path, staying in Mysore, Bangalore, Rishikesh and some other places, absorbing different styles of teaching. However, it was never enough, so he went to senior Iyengar teachers, learning how to focus on technical aspects of hatha yoga alignments and anatomy. At his center, he teaches the therapeutical effect of asanas and their adjustments. And this is exactly what allows Mahi to use yoga as a therapeutic way of healing people with various pathologies of the body.
Yogi Akshey
[dropcap]A[/dropcap]kshey hails from a small town of north India. Born and raised in a middle-class Hindu family he started practicing yoga at an early age. A graduate in commerce Akshey worked with big Corporate like Genpact and Serco. Having experienced the stress one goes through in MNC's he slowly devoted his time and energy to yoga practice. He studied yoga Asanas and philosophy of yoga with monks at different ashrams in Uttarkashi (Himalayas), Bihar and Rishikesh and slowly left the corporate to take up yoga teaching as a full-time job. 10 years of self-practice and 7 years of teaching experience makes him a strict teacher who pays a lot of emphasis on subtle movement of body parts while performing an asana. Besides Hatha yoga, he also teaches Philosophy and Anatomy.
Yoga according to Akshey is union through awareness which can be brought about by treading the path which the seers of past have prescribed in scriptures. Limbs of yoga are the torch bearers which guide the seeker to attain the knowledge of self. The anatomy classes are focussed purely on yoga practice that gives students a firsthand experience of the physical and physiological impact of yoga Asanas. Not just muscles but the movement of Prana also has to be guided in yoga Asanas to move the flow of energy to higher psychic centers known as chakras according to Hatha yoga practice. He believes that proper application of bandhas and sub bandhas can bring about this movement which can be felt in yoga asanas.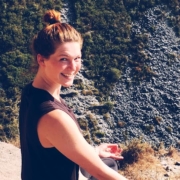 Anette Quentin
[dropcap]A[/dropcap]nette started her yoga journey in Germany in 2011. Looking for balance from a stressful corporate job, she was introduced to yoga as a physical practice. Hooked from her very first class she soon established a daily practice. Trying different styles such as Hatha, Ashtanga, Yin, or Jivamukti with many different teachers, she lost her heart to the more flowing styles.The use of constant movement in connection with the breath helps her to calm the monkey mind, allowing her to fall into a state of moving meditation.
Her intensive self-practice has helped her to develop not only physic but also mental strength which led her to make significant changes in her life off the mat. Since her first yoga class, Anette has moved away from a typical western corporate career with all its ups and downs to a more nomadic, holistic lifestyle. Under the personal credo "home is where I roll out my mat", she has made India her current home base.
Coming from a competitive society, she grew up constantly comparing and being compared to others. Yoga helped her to explore and work with her own limitations. For her, it is about enjoying the journey towards self-realization which is not a goal reached in a certain amount of time, but a lifelong process. Therefore, as a student as well as a teacher her focus lies on the path of physical and mental involvement rather than looking for instant, perfect results.
Anette completed an RYT 500 hour teacher training course with her Guru Mahi in Dharamsala, India. Under his guidance, she learned about the significance of yoga as an ancient philosophical system and its true power as a spiritual science. Studying yoga in India taught her respect for the roots of its ancient traditions. She practices and teaches from this holistic perspective not only focusing on the physical body. Next to asanas she is constantly deepening her knowledge in yoga philosophy, finding ways to translate it to our modern perception of life. All this knowledge and experience she is transporting in her classes working in favor of connecting Body, Mind & Soul.
Simone Picca
[dropcap]S[/dropcap]imone Picca, come from South Italy and living in London for past 8 years practicing Shiatsu and Yoga. Yoga has been a part of my life for the since5 years since I discovered its benefits and my practice has helped me grow stronger, more flexible and fearless, both on and off the mat. Yoga inspires me to live each moment more mindfully.
I completed my multi-style yoga training with Mahi Power Yoga in the Yoga in Goa and focused more on the Hata Yoga style (India), and Shiatsu Therapy with Shiatsu Panta Rei (Italy) from mid-2012. Since 2014 I started practicing Shiatsu Therapy combining it with the Yoga and other techniques of energy manipulation to comply with the needs of the patients.
I will always be a student of the practice and I'm deeply grateful for the loving wisdom my teachers have shared with me through the years. In my classes, I love to combine creative sequencing, a spirit of playfulness and a dose of inspiration to help you deepen your practice. I seek to help others thrive in life by nurturing body, mind, and soul with yoga. My hope is that you step on the mat feeling refreshed, nourished and balanced
One of the aspects of yoga that fascinates me could be explained by the second Yoga Sutra of Patanjali that says: "Yogas Chitta Vritti Nirodha" one of the meanings could be: through the discipline of yoga the mind can be "tamed " and I experienced this in my own skin and when that happened it was a wonderful experience for both mind and body only through the practice.
Yoga is not only flexible, doing a strange pose with your body but is also through diet, meditation, chanting, action in the everyday life. It could sound difficult and serious, is not easy but can be fun at the same time and this combination can happen only if you keep looking at the world with the same eyes of a child, full of joy and amusement by anything and without judgmental mind. My motto is: keep smiling to your life and happiness can be yours.
Rakesh Nayak
[dropcap]G[/dropcap]
rowing up in a traditional family in Ayodhya Uttar Pradesh India, Devvrat was introduced to yoga in his early childhood. Next to giving importance to educating him according to ancient Indian culture, his parents also introduced him to modern science. This led him to his multi-perspective approach to studying and teaching yoga.
After graduating with a Bachelor of Technology in Electrical Engineering, Devvrat started his career with the multinational company ABB in Bangalore. He used to work four years as a Project Manager in an international environment, until he decided to leave the corporate world for now.
This allowed him to devote himself fully to the study of the ancient science of yoga. Practicing with different teachers around India, he gained experience by constantly taking different perspectives on yoga. This not only developed his practice as a student, but also significantly inspired and enhanced his teaching skills. Further deepening his knowledge in the therapeutic approach of asana and anatomy, he completed his Yoga Alliance certified 500h Teacher Training with his Guru Mahindra Prasad in Dharamshala / India.
Since 2016 Devvrat is pursuing a Master of Science in Yoga Therapy at SVYASA Yoga University Bangalore. In his studies he is combining the best practices of yoga with modern science in order to contribute to the welfare of society. Devvrat´s corporate background made him understand people´s needs when it comes to the suffering from common psychosomatic disease, caused by permanent stress in office jobs. Incorporating asana, pranayama, and meditation, he is working on solutions catering to these needs.
Next to this more practical approach, Devvrat dedicates his yoga studies to its original, philosophical perspective. Already during his childhood, he was interested in metaphysical questions which today he is continuously applying in the context of yoga philosophy. According to his perception, without understanding the very source of yogic science, practitioners will not be able to understand the true essence of yoga.
As a practicioner Devvrat is specialising in the traditional Ashtanga method after K. Pattabhi Jois. Constantly developing his own practice as well as his teachings, he is regularly practicing at the KPJAYI in Mysore. He is also experienced in teaching Vinyasa, Hatha, and Yin Yoga. For him practice of physical Asana means practice of awareness. It is not just about mastering the pose on a physical level, but putting mindfulness into these particular moments of movement, becoming aware of the connection among body mind and soul
Jane Cradick
I am a passionate, creative and dedicated self-starter with 8 years of training, teaching and studying yoga in India, Thailand, Portugal and the UK
I am a highly motivated teacher, with excellent communication and organization skills. My extensive training and devoted practice allows me to work with integrity and build strong, supportive relationships with my students and colleagues.
My kind and compassionate nature allows my students to feel supported whilst gaining confidence in their practice.
I teach and practice Hatha, Vinyasa, Chakra Yoga, SUP yoga, Childrens Yoga, Meditation, Dance Meditation, Chanting, Pranayama, Lotus Flow and Restorative whilst adding elements of philosophy and anatomy into every class. I most recently organized a Bhakti Festival in Cornwall to raise money for Charity.
I have extensive marketing, promotion and photography, photo and video editing skills whilst having a strong work ethic and happy to help attitude.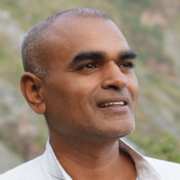 Acharya Yogesh
[dropcap]A[/dropcap]charya Yogesh is one of the authenticate gems in the world of yoga. He Acharya Yogesh was born in Rajkot (Gujarat), in India in 1976. He is associated with therapeutic aspects of different yogic practices. Yogesh has finished prestigious post-graduate Yoga studies at Kaivalyadhama Yoga Institute in Lonavala – one of the oldest and the most traditional Yoga institute in India, where he was a topper.
He is an excellent teacher for philosophy, yogic anatomy, and traditional Hatha Yoga. Yogesh has mastery over the cleansing process and pranayama technique. One of the eminent specialty of Yogesh is chakra therapy/ cleansing and balancing. He is practicing alternate healing therapy, a combination of psychological counseling, Ayurveda, Chakra therapy, mudra therapy, yoga and pranic healing over six years. On his philosophical and spiritual journey he has studied many great seekers of the truth like Patanjali, Osho, Buddha, Gurdjieff, Lord Krishna, Aurobindo, Shankaracharya and much more and what is more, he has not only studied these philosophy but he is trying to live a life according to an essence of this philosophy.
Over these years he has developed a completely scientific attitude towards spiritual practices leading to a combination of Eastern feeling and Western mind. He spends most of his time in Osho- Gurdjieff communes when he is not teaching. He combines all the knowledge he has got from the various path of spirituality.
Yogesh has also teaching experience of philosophy, yogic anatomy, hatha yoga, Pranayama, meditation and various cleansing processes in different schools and individual workshops. On a lighter note, Yogesh cooks delicious Ayurvedic food. He loves to share and teach his cooking ability to his students.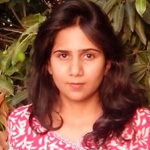 Anushree Singh
[dropcap]G[/dropcap]raduated with honors in Yoga Philosophy from Mumbai University, Andree was first introduced to hatha yoga by her guru Dr. Omanand Ji at Paramanand Ashram Indore. She completed her 200 hrs teacher training program in hatha yoga and yoga therapy and conducts therapeutic classes related to diseases of the endocrine system including Thyroid, diabetes, insomnia, and hormonal imbalances and autoimmune disorders like multiple sclerosis.
Anushree has a profound knowledge of yoga anatomy and has taught YTTC students in Rishikesh and Goa including classes in yoga philosophy, physiology, and meditation.Anushree has studied the breathing patterns in detail including digital pranayama and breathing techniques in yoga practice. She is also proficient in ashtanga yoga which was initiated by her French teacher who is a student at Pittabha Jois Yogashala in Mysore.
Her style of simplifying complex postures is unique, and her approach to hatha yoga is not merely physical but spiritual thereby introducing yoga to her students in a different light.
Sarvasmarana Ananda Ma Nithya
[dropcap]S[/dropcap]arvasmarana has been doing yoga for many lifetimes. This was found when as a child she used to do yoga poses in the exact same manner as they are done actually without even knowing what they were and why she was doing them. Therefore, ever since her childhood Sarvasmarana Ananda Ma or simply Sarva Ma, as her students like to call her, knew that yoga is something that resonates within her at a deeper level.
She commenced her professional yoga training in 2007 in Mysore. There she learned about yoga on a broader level and began to develop a better understanding of self. Ever since then she has continued to expand her knowledge of the process.
She lives in a Mysore ashram in South India, where she teaches yoga and studies it under the guidance of her guru. Previously, she has lived in Los Angeles, California where she used to teach meditation courses on Chakras to help out people in overcoming emotional imbalances and difficulties in their life.
Sarva Ma is adept in teaching Hatha yoga, Meditation, Samyama, Pranayama, Tantra, and The Vedic Sciences. She accredits the importance of these practices in one's life and their immeasurable benefits.
Since childhood years, practicing, teaching and living yoga has been a profound transformational experience for her and she endeavors to make her students experience the same for themselves. Her unique style of teaching is a result of her inborn bonding with yoga and experiences she has had throughout her life. She believes that as one is transformed through yoga, entire cosmos is transformed as well.
Hari
[dropcap]H[/dropcap]ari had the privilege of being born in a family who followed the teachings of Raman Maha Rishi's, living in a village in Himalaya Mountains, which many believe is the home of yoga. The family environment allowed him to start his yoga journey at a very young age. As he grew older, he started to take yoga lessons from learned yogis and sages in the vicinity who taught him that yoga can only be learned from within and a person himself is his best teacher.
Later under the guidance of Sharat Arora, a great Iyengar guru, he began to practice Iyengar yoga, which he continues to practice as well as teach at Mahi Yoga. Hari believes that physical and mental peace can come only through proper alignment of the body in yoga postures is the key to physical and mental peace, and loves to share his wealth of knowledge with his students. In his words, "Yoga as a way to uncover the complete potential of liberation, which is dormant in every human being."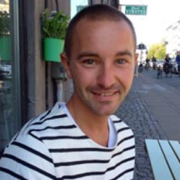 Bjoern Marcus
[dropcap]B[/dropcap]orn in Denmark, Bjoern started working with his body at a very early age studying dance from the age of 4, transitioning from working as a professional dancer to the fitness industry but always practicing yoga for recovering his physical and mental balance.
Having completed his YTTC with Mahi Yoga in 2013, under the careful tutelage of Guru Mahi, Bjoern continued on to teach with Mahi Yoga Yoga as well as in Guru Mahi's own drop in classes studio in Goa. Passionate about the philosophy behind the world of Yoga and various styles such as Vinyasa Flow and Ashtanga Vinyasa, Bjoern's deep passion lies within the therapeutic powers of asana practice on both the body and mind.