Thinking about transforming your life with yoga? Here's all you need to know
Yoga has mostly been associated with physical transformation and curing health diseases. However, yoga has got much more to it than what meets your eyes! Yoga is capable of transforming your life positively. It can completely change the way you feel, perceive, think and behave. Though it may sound superficial many can vouch for the impeccable wonders which Yoga has brought in their lives. While some notice profound changes in their body, others feel the transformation on a deeper level like relationships or worldview. However, it is to be noted that these changes are subtle in nature and happen over a period of time in an organic manner.
As quoted by Rod Stryker, ParaYoga founder, and Tantra Scholar, for understanding the transformation which comes with Yoga, one needs to understand the essence of work 'transformation'. Yoga does not change you into a better person than before. It would be apt to say that Yoga helps in removing obstacles which prevent you from becoming the person you actually are. We do not transform into some one we aspire, but we transform to our real selves and best self.
Here's how Yoga can transform your lives:
Enhanced decision-making ability
It has been noticed that people who are engaged in Yoga practices make better decisions which are constructive than being destructive. After practising Yoga for a longer duration of time one becomes mindful in taking decisions deliberately. Yoga clears the mind from unwanted thoughts and anxiety, anger and grudges and hence, one can take appropriate decisions in their personal and professional lives.
Yoga makes you are happier person
One of the most significant transformations will be that of increased happiness. Yoga Teacher Trainng Courses From Mahi Yoga gives a glimpse of the free and joyful person one can be. As per Anusara Yoga teacher Sianna Sherman, Yoga asanas can help in realizing one's hidden potential and achieve things which once you thought were impossible. By boosting the confidence levels it gives a sense of accomplishment. While lying in Savasana one can feel the sense of contentment and freedom which reflects in one's behaviour. With mindful meditation, one can experience inner bliss.
Release stress and calms mind
The breathing techniques in Yoga help in releasing stress along with calming the mind. It helps in getting rid of negative thoughts. While concentrating on our breath, our body starts relaxing automatically along with softening of muscles. The mind produces thoughts slowly during this stage which helps in clearing noise from the mind.
Connecting mind with body
300 hour YTTC increases the awareness about our bodies thereby helping to reconnect us with our bodies. It has been said that Yoga helps in strengthening the intuitive and inner powers. The connection helps in realizing the fact that whatever affects our body has an impact on our minds and vice versa.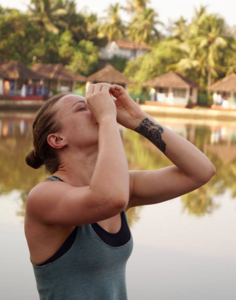 Yoga can be helpful in teaching you to let go of things which do not serve you any more or harms you in one or other way. Yoga will help in letting go of anger, limitations, barriers and self-imposed insecurities. As a result, on the physical level, one can let go of stress and anxiety. Even on a spiritual level, one can learn to let go of any grudges and forgive.
Imbibe self-love and positive thinking
With more and more practice one can achieve a sense of peace and tranquillity. We start looking at ourselves in a positive and loving way instead of self-bashing. It stimulates positive thinking and love for everyone.
If you are looking for excelling these life changing techniques through Yoga, the Yoga teachers training in India is your ultimate destination! One can easily start will courses like 200-hour yoga teacher training from Dharamsala or Goa and excel the art of yoga as well as spread the goodness among others.
Happy learning!
https://www.mahipoweryoga.com/wp-content/uploads/2017/08/Jennifer-Aniston-Yoga.jpg
619
442
Yogi Mahi
https://www.mahipoweryoga.com/wp-content/uploads/2021/02/logo-300x95.jpg
Yogi Mahi
2017-08-17 17:08:52
2018-03-27 07:26:56
Thinking about transforming your life with yoga? Here's all you need to know