Yoga Teacher Training in Mcleodganj, Dharamsala India
Courses for Yoga Teacher Training in Dharamsala
Congratulations for making the decision to take your yoga practice to a deeper level. Mahi Yoga offers comprehensive yoga teacher training programs for 200 hours and 300 hours in Goa, Rishikesh, and Dharamshala. Mahi Yoga is registered with Yoga Alliance USA RYT 200 & Yoga Alliance 300 Hours.
We have particularly chosen 4 styles of yoga that we believe will create the best foundation for being a yoga teacher in today's world. The theory content of the RYT 200 course also complements these requirements and offers a deep understanding of spiritual and traditional yogic philosophy and values.
Therapeutic Yoga
Yoga has been applied with therapeutic intention for thousands of years and is now fast emerging as a discipline in itself. Our Yoga therapy sessions, taught by Guru Mahi, are derived from his 27 years of experience in the tradition of BKS Iyengar- using correct alignment and props to assist individuals facing health challenges of all kinds. The course begins with a health checkup of every student. Individual attention is paid to students who have some physical troubles and special asanas are taught to them to overcome their problems. Students will learn how to assess and assist their own students and aim to bring balance to their body, increasing wellbeing and vitality.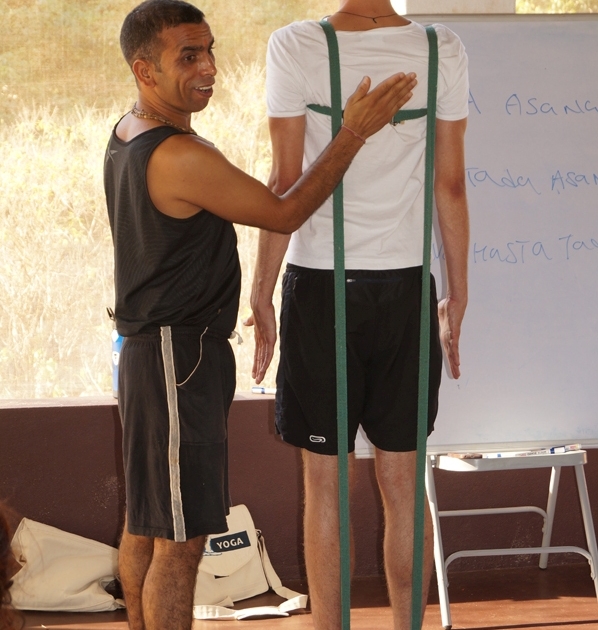 Hatha Yoga
Hatha Yoga is the original form of yoga from where all other styles have developed. The purpose of Hatha Yoga is to keep the yogi aspirant, healthy and free from disease in order to facilitate purification of the mind. This deep practice develops a very subtle awareness within the body that begins the process of cultivating the meditative state of awareness. Pranayama (Breathing techniques) are also a very important aspect of a Hatha Yoga practice. Here we cover the traditional asana sequence, pranayama, meditation, cleansing processes and philosophies of Hatha Yoga Pradeepika.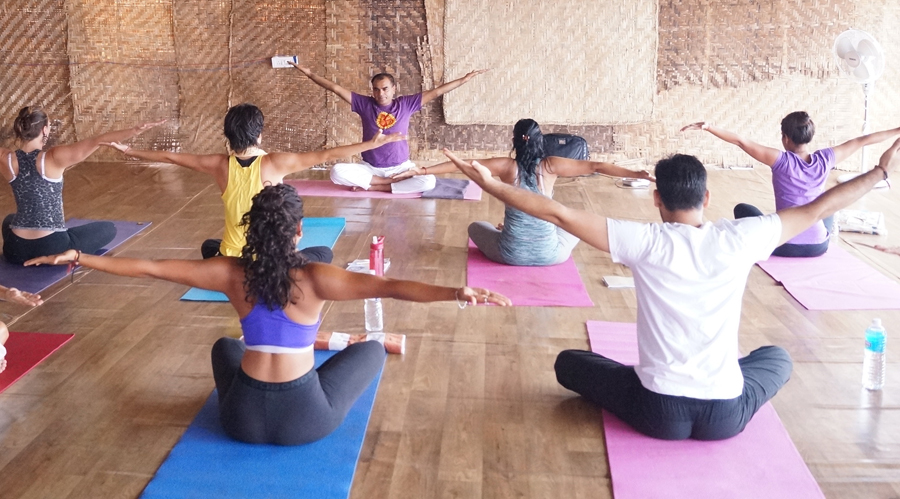 Vinyasa Yoga
Vinyasa yoga has become one of the most popular styles of yoga in the modern world. Students will learn the various ways of sequencing classes, incorporating stretching and strengthening asanas while placing emphasis on flowing between poses with awareness. The breath is used as an anchor to the movement, which builds heat, assists detoxification, and creates a rhythm and flow to the practice. Vinyasa Yoga is an important practice to learn due to its high demand in the current yoga world.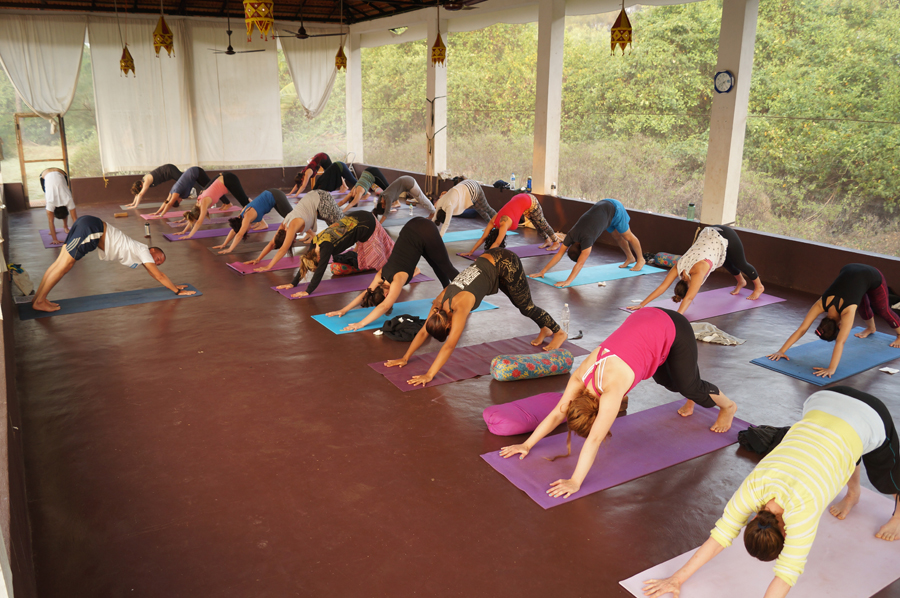 Ashtanga Yoga
Ashtanga yoga literally means "eight-limbed yoga" as outlined by the sage Patanjali in the Yoga Sutras. Ashtanga Yoga is in the tradition of Sri K. Pattabhi Jois. The asanas are practiced systematically and provide a harmonious flow of energy. The finishing sequence rounds off each and every Ashtanga Vinyasa Yoga practice. Systematic learning steps help you get a deeper understanding of this powerful and dynamic yoga practice supported by your breath.
Art of Teaching
The art of teaching is all about Teaching Methodology. How to speak in front of a class, teacher dialogues, giving instructions, qualities of a yoga teacher, teaching styles, and the 4 teaching techniques; Instruction, Demonstration, Observation and Adjustment. We also cover the technical aspects of running a class like class structure, routine, teaching safely without injuries, an anatomy of alignment (both the theory and practice), 
"Art of touch" encompassing physical adjustment, setting up a yoga business- tips, ethics, and advertising and other practical teaching workshops.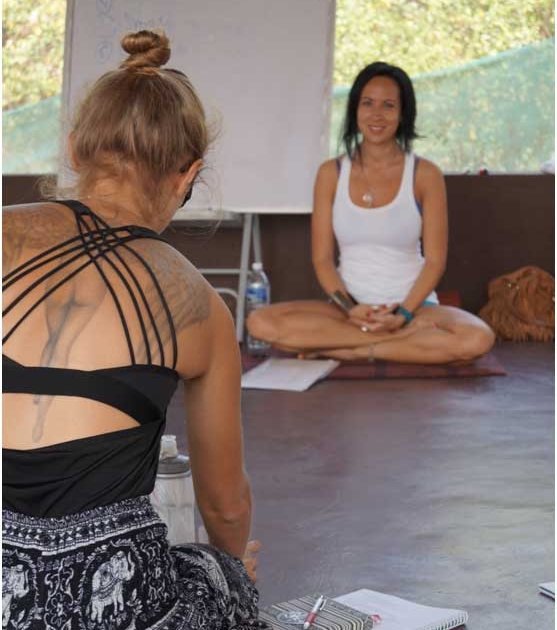 Anatomy and Physiology
These classes include a general idea of the human body about its constitution and composition. We will explore the 11 systems of the body: the Integumentary System, Nervous System, Skeletal System, Endocrine System, Muscular System, Cardiovascular System, Lymphatic System, Respiratory System, Urinary System, Reproductive System, and Digestive System. Giving insight about where the journey of yoga begins- the body. The sessions will familiarize students with the different parts of our bodies and their relation to movement and breath as the body moves in and out of the posture with an understanding of limitations and safety.
Yoga Philosophy
Our Yoga Philosophy classes are taught by Acharya Yogesh, a teacher with a deep understanding of yogic philosophy, obtained through his extensive studies and first-hand experience of transformation through his yoga practice. His classes are taught from a scientific perspective as he applies authentic, spiritual and philosophical values of yoga with modern day lifestyle challenges. Classes are always interesting, informative, relevant and humorous.
Close your eyes now and imagine yourself sitting in an area completely surrounded by the gigantic mountains of Himalaya, their tops covered in snow. You are doing your asanas and as your mind transcends time, you find yourself in a different period of time and in a completely new place – this is the exact experience you will have while practicing yoga in the town of Dharamsala, in India. In this city, you will find numerous courses that will teach you how to practice yoga in a wonderful and peaceful location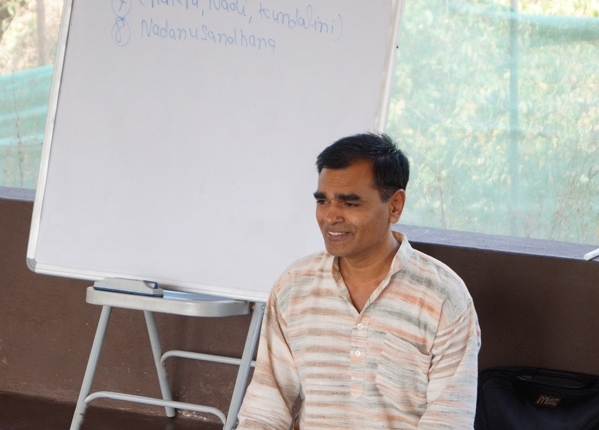 Meditation
Mahi Yoga teaches both active and inactive meditations, ancient techniques and techniques for the modern man/woman. Meditation helps you experience the mental silence, free of conflicting thoughts. Our meditation classes are not just meant for peace of mind, they offer great energy, positive outlook, a sense of fulfillment, and an unprecedented calmness. The styles of meditation offered to vary greatly, allowing the student to connect with a style that really suits them. They include; Chakra Meditations, Kundalini Meditations, Third Eye Meditations, Sufi Meditations, Tantra Meditations, Mind to No-Mind Meditations, Intensive Breath Meditations, Sound Meditations and Silent Meditations. A truly unique opportunity to experience so many styles of meditation in one place.
Dharamsala's history with yoga stretches over hundreds of years. It is understandable, considering the fact that this unusual little town has been home to the Dalai Lama himself. As soon as your feet touch the ground, you will feel the spirituality that looms in the air. For thousands of years, the Himalayas have been home to ancient tribes of Indians that have practiced the sandhala for enlightenment purposes. In time, they have become the bearers of deep knowledge about yoga, Ayurveda, and other such Vedic sciences.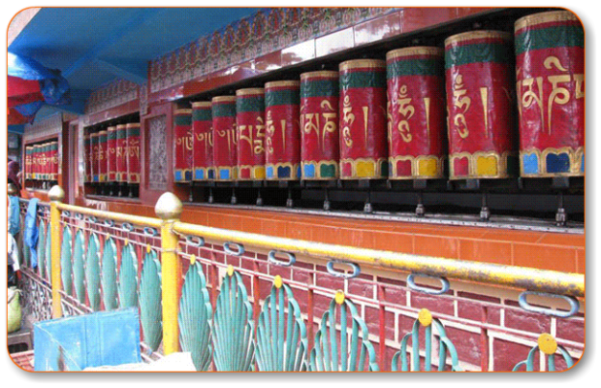 The Dharamsala town is located within the Dhauladhar range, in the southern branch of the Himalaya mountains. It sits on a high altitude, which means that the landscapes you will see, particularly the huge mountains topped with snow and the Kangra valley at the foot of the mountains will surely astonish you. The landscapes are completed by other sights such as the tall pine trees coupled with the rhododendron bushes and the ancient monasteries, built in the city and at its outskirts, all of which create the perfect environment for practicing yoga. The weather conditions are likewise perfect for deep meditations, the summers having pleasant and warm temperatures. The yoga classes are organized in various locations during the summer, but, as one would expect, these locations are not available during the winter due to the harsh cold temperatures, which is why the yoga courses take a break during this season.
This town is a popular destination among many foreigners that come here, on the one hand, specifically to meet and receive blessings from his Holiness, the one, and only Dalai Lama, and on the other hand, to practice yoga in a peaceful environment. Here, everybody is welcome, regardless of religion, race or country of origins. Once here, the international tourists are welcomed by many kind local people that seek only to make their stay here nice and pleasant. Due to the fact that the Dalai Lama resides here and due to the many Hindu temples where people pray to their Gods, the town is considered to be a sacred location. The Dharamsala also holds a great religious importance, which means that tourists traveling alone, particularly, women have nothing to fear.
Yoga Courses taught in Yoga Teacher Training in Dharamsala
As mentioned beforehand, the locations where the yoga courses are taught are numerous in Dharamsala. The yoga lovers come here from all over the world to gather knowledge about this ritual. Two of the most important things that attract them to this town are the natural beauty of the place and the spirituality that looms in the air. These two things have also convinced many centers all over India that teach yoga to open their own center in Dharamsala.
If you are thinking of coming to this part of the world to take advantage of the yoga courses that are being kept here, especially during the yoga holidays, you can rest assured, you will surely find a course to suit your needs. Besides, the yoga centers also offer therapeutic massages, outdoor expeditions in nature and even spas! You can choose your retreat according to your wishes.
In Dharamsala, you will find famous yoga teachers that have opened their own centers and that offer yoga courses to tourists from all around the world. If you want to be taught by a famous professional yoga teacher, Dharamsala is the place where you will most definitely find him or her. You can also rest assured, there are no fake centers in Dharamsala. Every yoga teacher has a certificate from the Yoga Alliance that accredits their center. Moreover, after completing the yoga course of your choice, you will be rewarded with a certificate signed by the Yoga Alliance representatives. This means that everybody can start their own career in yoga. 
Yoga courses in Dharamsala to choose from
In Dharamsala, there are numerous yoga styles you can choose from. The centers here offer courses for the famous Hatha, Iyengar, Bikram, vinyasa, ashtanga and many other such yoga styles, but if you want something new and modern, you can always choose the courses that blend yoga with aerobics and other fitness regimes.
If you are looking to learn and practice yoga in the middle of nature and breathe in the spirituality of a sacred place, then you should definitely choose the Dharamsala yoga teacher training courses. The best thing is that there are no boundaries for those that want to study here. Regardless of origins, race or religion, everybody is welcome here.
Why choose Us?
We, at Mahi Yoga, believe that the yoga principles should be adopted in everyday life because they will manifest themselves in wellbeing and goodness. We consider that these retreats will turn you into a better person, while also putting you in contact with the ancient knowledge that looms in the sacred place of Dharamsala. It is our belief that yoga is a great science that has to be passed down to as many people as possible and our students, the future yoga teachers, are grateful for the yoga courses we provide. Yoga influenced not only the physical body of the person but also the mind, the psychological "body" if we can put it like this. After finishing the courses, their minds are balanced and their bodies feel rejuvenated, alive.
About Dharamsala
The first thing you need to know about Dharamsala is that it's a small town surrounded by the greatness of the Himalayas. This town is a perfect representation of a blending between art, spirituality, and nature. Those that enjoy the taste of adrenaline will love it here because they can experience rock climbing, paragliding, and many other such outdoor activities. Those that seek ancient architecture will fall in love with the ancient forts and the Hindu temples constructed according to the great Tibetan architecture. Those that enjoy nature above all else will certainly become mesmerized with the natural lakes, the waterfalls, the hot water springs and the overall beauty of the Himalayas. And last, but not the least, those that seek spirituality will love the monasteries and the temples and the fact that they can be blessed by his Holiness, the Dalai Lama, is certainly something to consider.
Conclusion
The conclusion to this is that Yoga Teacher Training in Dharamsala is much more than a holiday retreat. It is a place where you can experience true spirituality, firstly because it is the town where the Dalai Lama resides, and secondly, because of the numerous monasteries here. The air is peaceful, the Himalayas are a wonderful sight, all of these making Dharamsala the perfect retreat for studying yoga. You can browse online and choose the perfect yoga training center for you, but you can also check the schedules to plan yourself a yoga holiday. Feel free to contact us for more details.
You can also check out Yoga Retreat Course in Dharamsala, Yoga Teacher Training course in Goa and Yoga Teacher Training course in Rishikesh.
Check out what Student of the previous batches have to say about us!
You can check out the Courses Dates and Fees and fill the Application form to book your seat.